Ref:
Date:
Location:
Photographer:
Ref:
Date:
Location:
Photographer:
News & recent work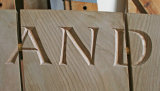 17/08/18
08/06/17
02/05/17
06/02/17
Wyle Valley Arts Trail
19/03/15
I shall be exhibiting and demonstrating lettercarving at the
Matthew Burt Furniture Showroom, Hindon, as part of the Wyle Valley Arts
Trail. There will be carved lettering and prints for sale. There will also be a cafe!
Do come along.
19/03/15
I have recently carved a sundial for Ian Hamilton Finlay's garden Stonypath. This replaces the original which was 40 years old and badly weathered. The letters were cut in relief in oak.
...more
Papal inscription for Westminster Cathedral
16/08/13
I have designed a new Papal inscription for the main entrance of Westminster Cathedral, to commemorate the visit of Pope Benedictus in 2010. The single piece of 7ft long Carrara Marble was inlayed with red and green Porphyry by Pietra Dura Craftsman Thomas Greenaway.